As we once again celebrate the Feast of Saint Francis of Assisi, we ask:
How can we animate a Franciscan response for PEACE? How do we as a community of faith and as individual faith-filled citizens engage our mind – body – spirit in a response at both the communal and personal levels?
For the Fall season, these questions present us with three opportunities.
---
Personal peace study & discussion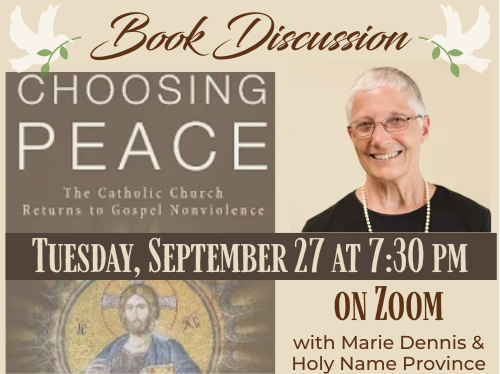 First, on a personal level, please join in a discussion led by Marie Dennis, author of the book Choosing Peace: The Catholic Church Returns to Gospel Nonviolence. This Zoom program is offered by Holy Name Province on Tuesday, September 27 at 7:30 pm. Marie Dennis is the former co-president of Pax Christi International.
---
Participate in peace vigils together at St. Patrick – St. Anthony
Secondly, our Women of Hope Ministry invites us to stand with them at Peace Vigils outside our church before and after the Masses on the Sundays in October. In this way, we extend the message of Peace to our members as we gather for worship together.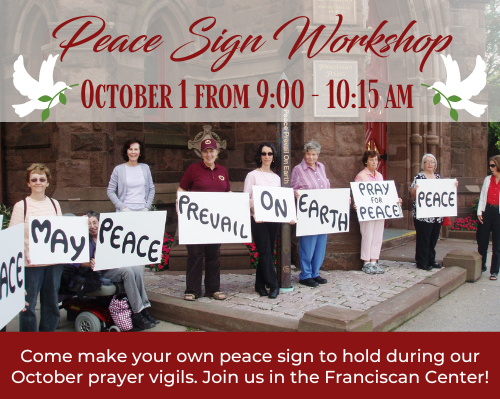 What will we be holding at these vigils? PEACE signs! You are welcome to attend a Peace Sign Workshop on Saturday, October 1, 2022 from 9:00 to 10:15 am to help create our signs under the skillful teaching of parishioner artist Tara Kremidas.
CLICK Here to let us know you are attending so that we can plan for materials. Free Will Offering toward materials expense.
---
Spread peace to our neighborhoods & to the world
Next, we are taking the message of Peace beyond our immediate community this fall. You will have the opportunity to purchase a SPSA Yard Sign after Masses in October. The message on our sign comes directly from the Peace Pole standing outside our church – "May Peace Prevail on Earth".
Won't you help us take Peace into our greater Hartford area and into your neighborhood? Our parishioners come from over 126 zip codes – wouldn't it be wonderful to see our Yard Sign spreading Franciscan Peace far and wide? The offering for the sign is $15 or two signs for $20.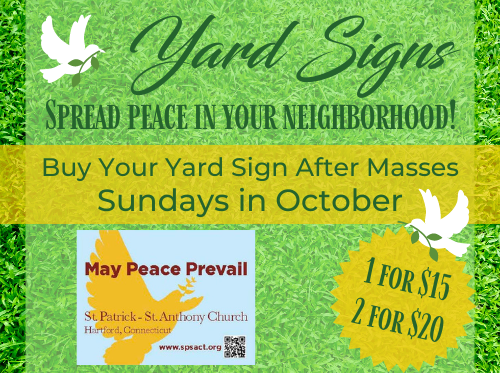 Thank YOU so much for giving this your full attention. We sincerely hope you can join in these efforts to become Instruments of Peace!
---
Don't forget to check out all the ways we are coming together as a community to celebrate St. Francis and to be the hands of Christ for others.