with St. Patrick – St. Anthony Church and the Franciscan Center
If you're looking for a specific way you can get involved, here is a list of current needs we have. Can you share your gifts?
If you're interested in helping for these or anything else you can think of, contact Allison Holst-Grubbe, Director of Outreach & Volunteer Ministry by filling out the form here to volunteer.
---
---
---
Remembrance Lanterns for All Souls Day
All Souls' Day and the annual Mass of Remembrance are a few weeks away. Would you like to help with our parish's beautiful tradition of memorial lanterns? Contact Allison to volunteer to help!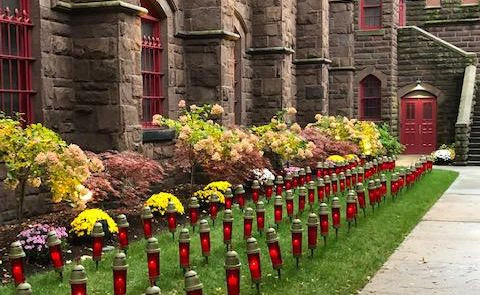 ---
---
---
Altar Servers Needed!
ALTAR SERVERS NEEDED No experience is necessary – we will train you. You can choose which Masses and how often you serve. Have you ever considered serving as a parent /child ministry? This could be a great experience for a parent and child to serve during Mass together. Please contact Deb Pelletier at [email protected] for more information.
---
---
---
SEEKING EVENT VOLUNTEERS
---
Saturday & Sunday, October 15 & 16 – Ministry Fair – The pandemic has put this tradition on hold, but it's back! Parishioners will be able to speak with those involved in ministries and learn new ways to get involved. Each Ministry will have a "booth" to share what they do and how to get involved.
---
Many hands make light the work, and we are looking for many, many hands to help in planning, decorating, setting up, serving, hosting, and cleaning up these events. Working together on these events, you will get to know fellow parishioners and build relationships with others while helping to fulfill an important role in building our church community.
LIVESTREAM CAMERA OPERATOR
Have you ever wondered what it takes to stream one of our Masses? We have dedicated volunteers who cover each Mass, but one is graduating from high school! We are in search of someone who can come to Mass 15 minutes before starting time, stream the Mass from our control room, and put the equipment away.
---
---
Volunteer with our Partner Organizations
St. Patrick – St. Anthony and the Franciscan Center for Urban Ministry have many local organizations that we partner with to help more people. The below volunteer opportunities are directly with some of those organizations. Reach out to the contact info in each listing to get involved!
— more opportunities coming soon —
---
Ready to volunteer?
Contact Allison Holst-Grubbe, Director of Outreach & Volunteer Ministry
---
Not sure what you're looking for?
Check out our ministries page to see how you can get involved today!
---
Outreach events
Check out our Outreach events through the Franciscan Center