---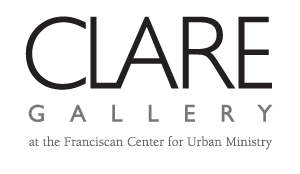 ---
---
"Beyond the Subject" works by Fr. Michael Reyes, O.F.M.
March 1 – May 23, 2022
Storytelling evening, Tuesday, April 26, 7–7:30 p.m. Registration Link
Closing reception on Sunday, May 22, 1–3 p.m.
Fr. Michael Reyes', O.F.M. paintings sometimes combine varied elements such as oil paint, paper, and metal leaves on a highly textured surface. Brush strokes are aggressively applied, which enables color to dance across the canvas. Textured edges create reflections and shadows playing with two and three dimensionality. Learn more about his artwork when Fr. Michael will hold a Zoom Storytelling evening to share the Franciscan legends, which inspired his creative expressions.
As a Franciscan artist, Fr. Reyes is always trying to find a way to connect with the humanity in all of us. He offers this reflection on the influence of art, "Paintings are equivalent to a person's signature. The power of images surpasses the limitations of language. My paintings challenge and inspire; they offer faith and life lessons without saying a word. With art, you can reach out to everyone, no matter their cultural and educational background or what language they speak."
More details and images are on our Current Exhibitions page.
The public is welcome to visit the Gallery to view the artwork—If unvaccinated, masks are required. If vaccinated, masks are optional but encouraged.
---
Artists interested in exhibiting at the Clare Gallery should download the Call to Artists Application, which are reviewed in a timely manner. Thank you.
---

Please join our email list