A Sister Parish Reflection
Your gift to our Sister Parish school will have a big impact. Many of us working on this project were struck by the low cost of providing a hot, nutritious meal for over 400 students. But, more significant, we also learned this may be the only protein and balanced meal that these children have each day.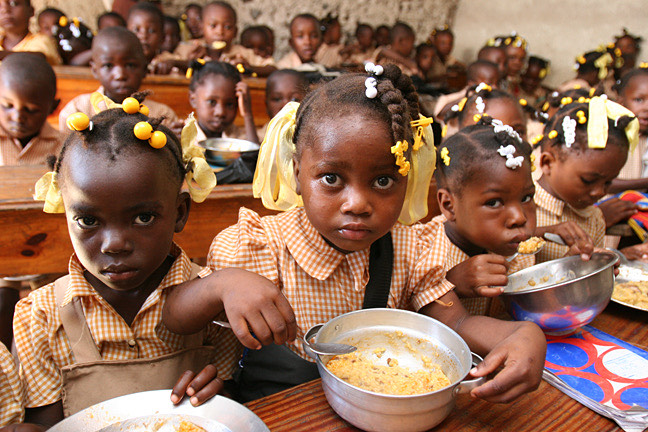 ---
As I consider my donation to the school lunch program in Haiti, I am reminded of one incident that occurred while handing out backpacks to children filled with enough food for a family through the weekend. I vividly recall a young child who tugged at my suit coat and said when I handed him his backpack, with a big grin on his face, that his mother will be smiling and crying with joy when he brings the backpack home. This incident reminds me of the importance of addressing hunger on many levels. A hot meal supplied during the school day helps a child to concentrate on school work, access the benefits of education, and provides some financial relief to families.
Please consider supporting the daily hot meal at St. Genevieve School. Together as a faith community, let our support offer compassion and make a difference in the lives of our Sister Parish families.
-Richard, Sister Parish Committee Member
————
Can you and your family or extended family help us ensure a hot meal every day for our Haitian students? It takes $125/day (US) for the food for 413 lunches needed each day for both morning and afternoon students. It also takes $50/day in wages for the support staff to prepare and serve the meal.
Will you join us in supporting the children of St. Geneviève?
Read more about our Christmas in July event to help get ready to feed all the students at St. Genevieve's School
It's Christmas in July!
Can you join us to give ALL the children of St. Geneviève a nutritious lunch?