Blessed are you who believed that what was spoken to you by the Lord would be fulfilled.
~ Luke 1:45 NAB
Celebrating Our 84th Year
The St. Patrick-St. Anthony Ladies Guild, founded in 1938, takes the Blessed Virgin Mary as their model of Christian discipleship.
The Ladies Guild serves the parish through a variety of programs and projects (e.g., making baptismal garments for children baptized in our parish; and awarding annual scholarships to parish students attending Catholic elementary, middle, and high schools).
These programs and projects are supported by memorial donations as well as spring and fall fundraising events. In addition, the Ladies Guild hosts a variety of spiritual events for its members and parishioners, including our traditional May Crowning.
Did you know that the Ladies Guild has given $73,675 of scholarships to children in the parish since 2003?
---
Join us:
---
2022 Events:
August – September 2022 – Bakeless Bake Sale in support of the Rev. Dawson D. Trenchard Scholarship
November 12 & 13, 2022 – Craft Sale & Christmas Corner
December 2022 – Meeting and Christmas Party
May 2023 – Mass and Coronation of the Statue of Mary
Scholarships of $4,900 were awarded by St. Patrick-St. Anthony Ladies Guild to parish students in 2021; award total since 2003 is $73,675.00.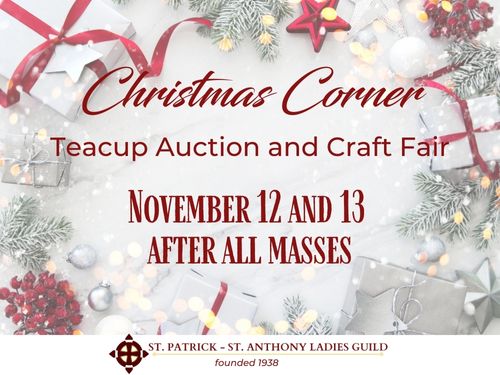 ---
---
Attend Catholic School? Apply now for the Rev. Dawson D. Trenchard Scholarship Award:
2022 – 2023 Scholarship Application Form – deadline to apply is September 14, 2022!