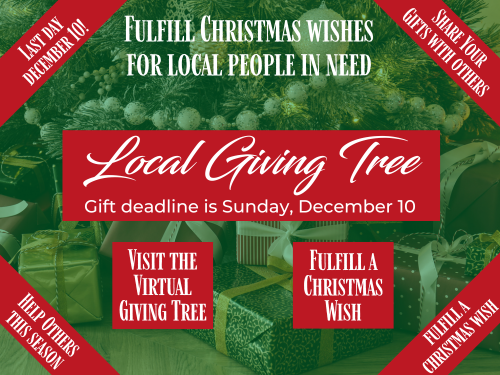 St. Patrick-St. Anthony has a long tradition of expressing gratitude for our blessings by sharing them with those in need. We are called to help our brothers & sisters in Hartford, and our local giving tree gives us the perfect opportunity.
During the pandemic, we transitioned our physical Giving Trees in the church to an online format. Now, you can peruse the giving tree from home, and choose your gift to share.
---
---
Local Giving Tree
Opens November 18 and gifts are due by Sunday, December 10
The Local Giving Tree supports several House of Bread programs and two programs at the Connecticut Children's Medical Center (CCMC), one for adolescents and the other for young adults.
When you choose your gift, make sure to review the delivery instructions! Please make note of the gift ID number – this is needed when you deliver your gift!!
Use our electronic gift registry for the Local Giving Tree. To access the registry, click below.
Here's the gift drop off schedule:
Weekdays:
Wednesday thru Friday, Nov. 29, 30, and Dec. 1 from 8:15 – 10:00 AM
Wednesday thru Friday, Dec 6, 7, and 8 from 8:15 – 10:00 AM
Weekends:
Saturdays, Dec 2 & 9 from 10:00 AM – 5:00 PM
Sundays, Dec 3 & 10 from 7:30 AM – 1:00 PM and 4:30 – 6:00 PM
---
---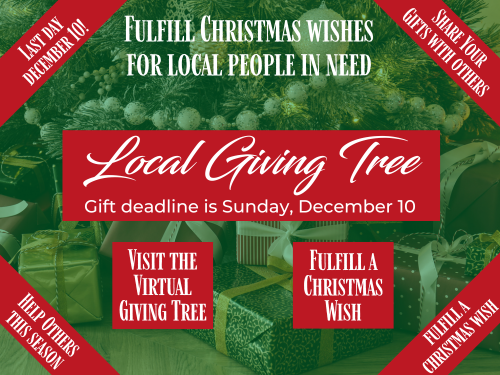 ---
Global & Time and Talent Giving Trees
In the past, we have had three giving trees, one for our local Hartford community, one for our global community – our Sister Parish in Haiti, and one for our community which was called the Time and Talent Giving Tree.
This year, the need in our local community is so great that we are focusing our giving tree on our local community with one tree rather than three.
However, please know that through SPSA and the Franciscan Center, there are many opportunities for you to get involved to help these other communities.
Interested in helping others on a global scale?
You are invited to get involved with our Sister Parish Committee. Our Sister Parish Committee works tirelessly on behalf of our brothers and sisters in Haiti, and they would love you to join them.
---
---
Interested in serving your faith community?
At St. Patrick – St. Anthony and the Franciscan Center for Urban Ministry, we have over 50 ministries where you can get involved. We truly have something for everyone. We have many opportunities to serve in the liturgy, to nurture your faith, to get to know and welcome others, and to act to help those in need.
---
---