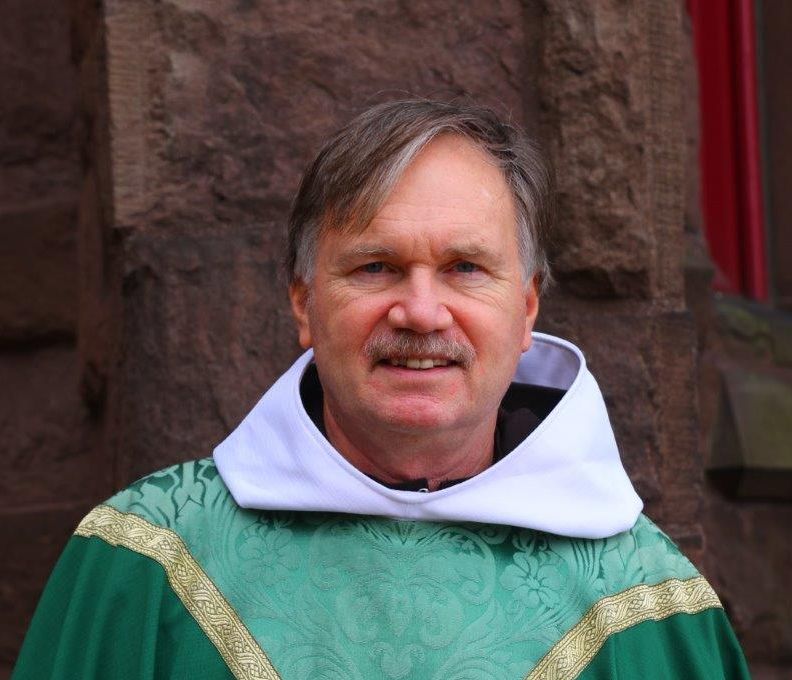 As Fr. Tim is away this week, he asked me to share an update on the Franciscan Center. The focus of the Center's work as we emerge into a post-pandemic world has been twofold. It partners with others in building the Kingdom here in Greater Hartford and beyond, while rebuilding a sense of community frayed by so many forces these last years. To help chart our path forward, we have reconstituted the Center's Board of Directors. Its members, half 35 and younger, come from varied backgrounds, such as law, affordable housing, finance, homelessness, mental health and youth.
In affordable housing, we partner with Habitat for Humanity on an interfaith housing project in Windsor. There our people work with members of other communities to make affordable housing a reality for four families. Folks enjoy meeting new people and learning new skills. I never thought I would install vinyl siding 30 feet off the ground! Our first two builds were full, but we still have space for 12/10/22. We also helped sponsor the repair of a house earlier this year with Rebuilding Together Hartford.
Early in St. Francis' journey, he heard God call him to rebuild His church. For 17 years, the mission program St. Francis Builds has been doing just that. This program provides a powerful Franciscan experience of the Church in mission as it seeks to rebuild homes, restore lives and renew hope in communities affected by natural disasters, poverty and climate change. In the last six months, members of this community have rebuilt homes in Houma, Louisiana devastated by Hurricane Irma, and constructed new homes in poverty-stricken Tijuana. In January we will send our 46th and 47th teams to Puerto Rico, to rebuild after Hurricanes Maria and Fiona. Half of one team will be folks from Hartford, the rest from parishes in Maryland and North Carolina. Two people from Hartford found the mission so impactful that they will return for second and third trips in six months!
The pandemic has greatly impacted our food security program. Ours is the only site in greater Hartford that serves food 365 days a year and since May, our numbers have doubled. Last month, we fed over 2,000 people. Inflation has affected families on fixed incomes, and our pocketbook as well. Besides providing twice as much food, our costs have risen, not only for the sandwich ministry, but the food we provide to the House of Bread for those days our volunteers serve. Our food costs are 67% over the budget. Amid this crunch we have seen our volunteers rise to the challenge of doing twice as much work. As a sign of hope, a group of "Bread Warriors" bring new meaning to the words, "Give us this day our daily bread", which they do faithfully with frequent bread donations. We are entering a partnership with Hands on Hartford to work together to keep people housed. We are very excited about this new venture, as their staff and resources will be a major asset in serving those who come to us at risk for homelessness.
Our partnership with Levo International has borne much fruit this past season. Not only did many of our folks purchase Community Supported Agriculture shares that assist immigrant urban "farmers", many of our volunteers constructed hydroponic systems, planted seeds, harvested produce and, in the process, connected with fellow parishioners.
Our membership in the Greater Hartford Interfaith Action Alliance also bore much fruit last year, changing the lives of over 300,000 families in CT by organizing to pass Clean Slate legislation. This year we held many house meetings, listening to the concerns of our people. Responding to the results of those meetings, GHIAA is developing concrete legislation to improve schools, decrease gun violence, provide more affordable housing, address environmental racism and the mental health crisis that affects many young people. Next month, we will share the specifics of these proposals that some of our people have helped develop. We will ask you to consider advocating for these proposals during the next legislative session as we seek to respond to the concerns of our people.
Pope Francis urges us to move outside our doors to join others in being the hearts and hands of Christ where we are planted. The ministries described above are some of the ways the Franciscan Center attempts to answer that call. By serving together and building community, we can rise to the challenges of a world rocked by this pandemic and in the process rebuild our post-pandemic church in mission.
Peace,
Mike, ofm
---
---