October 2, 2022
@
8:30 am
–
7:00 pm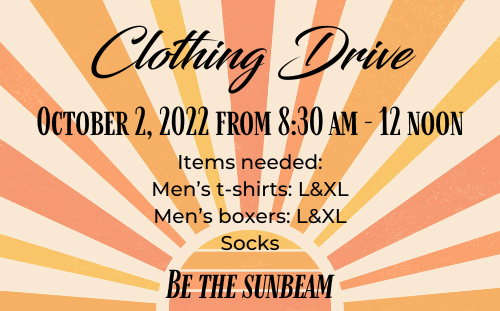 Support the Clothing Drive on Sunday, October 2 from 8:30 a.m. to noon and at the picnic. You are invited to donate by simply picking from the three items listed.
Men's t-shirts: Large and X-Large – new and slightly used
Men's boxers: Large and X-Large
Socks
Parish volunteers and Confirmation students will be curbside to collect donations. It is our hope the spirit of giving to help those in need continues to be strong within our parish community and together we can support the Hartford community.
Don't have time to shop? We will also be collecting cash or checks for the Clothing Drive (checks made payable to the Franciscan Center).
Thank you so much for your generosity and willingness to help those in need and in doing so honor the Feast of St. Francis.