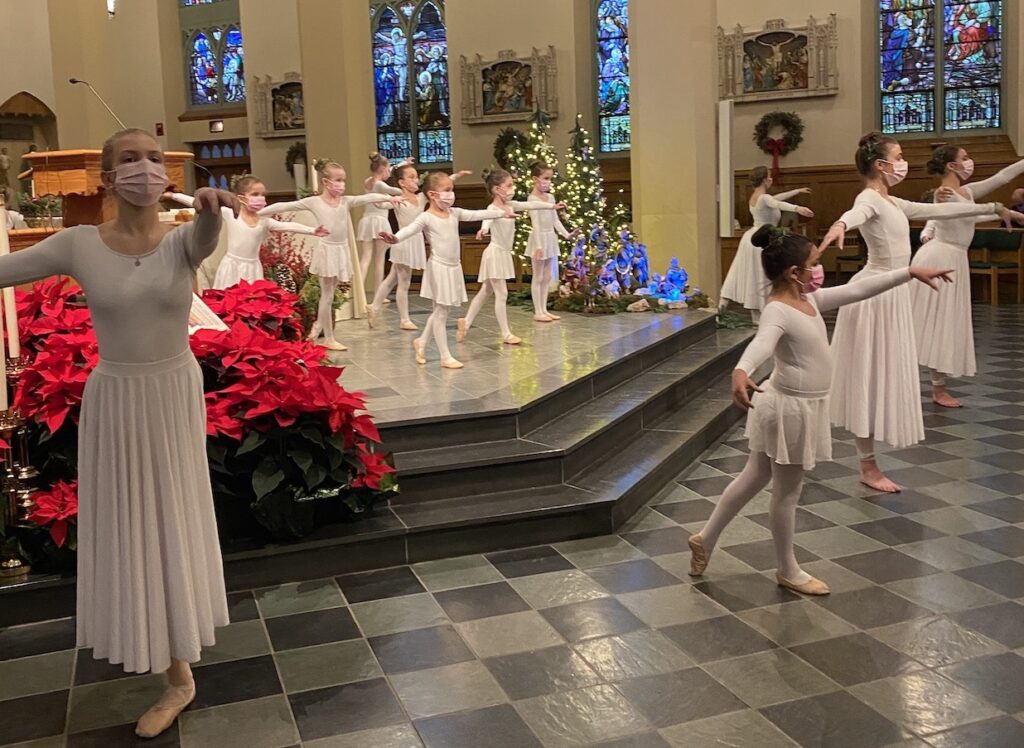 Create a prayerful and memorable Christmas tradition for your child with Liturgical Dance. The 4:00 pm Mass on Christmas Eve features the Liturgical Dancers who express their prayer through dance.
Young dancers through high school dancers are invited to join the Liturgical Dance Ensemble for three rehearsals in December and to dance with us at the 4:00 pm Mass on Christmas Eve.
Parishioner Mary Beth Griffith, Director of Griffith Academy of Dance, choreographs and leads all rehearsals.
---
Rehearsal Information
There is one rehearsal at Griffith Academy (275 Main Street, Wethersfield).
Saturday December 10 from 8:00-9:00 am.
There are two rehearsals at St. Patrick – St. Anthony Church (285 Church Street, Hartford).
Sunday, December 18 from 1:30 – 3:30 pm.
Thursday, December 22 from 4:30 – 6:30 pm.
(younger dancers will rehearse first and will be dismissed when their dance is finished)
---
Christmas Eve Information
Dancers must arrive at 2:30 pm on December 24 at St. Patrick – St. Anthony Church, Hartford. Mass is at 4:00 pm.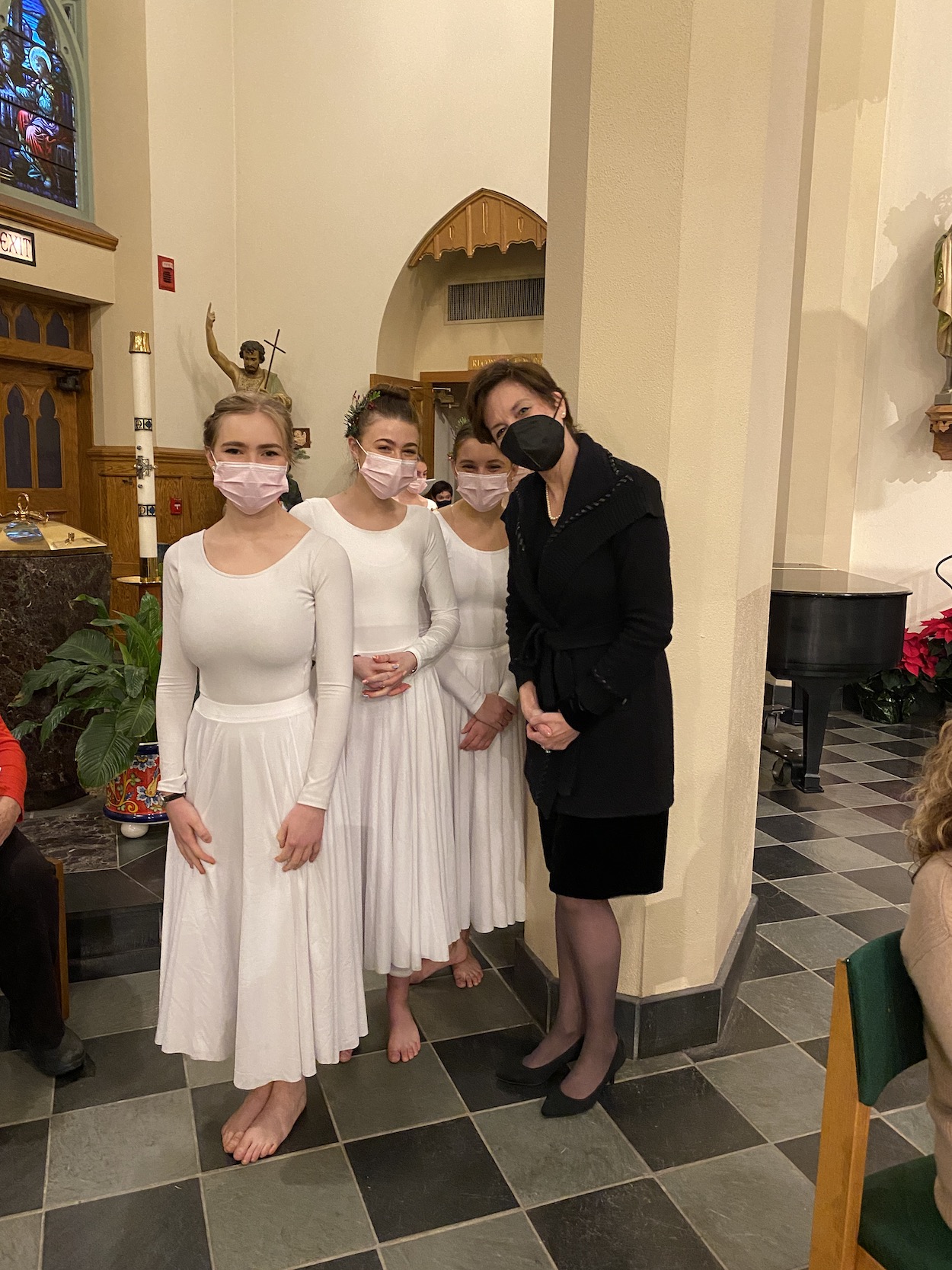 ---
---
Dresscode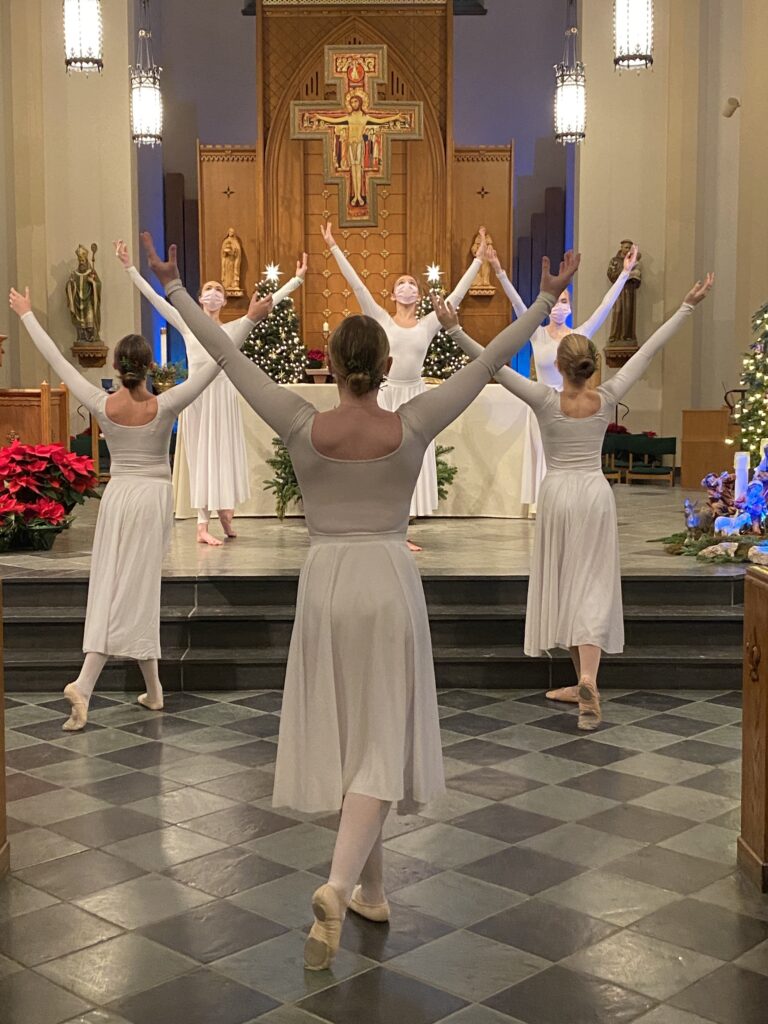 For rehearsals:
dancers can wear any dance attire with hair pulled back from the face.
For Christmas Eve:
white long sleeve leotards
white skirt
white tights
pink ballet shoes
hair in a bun
festive headpiece will be provided by the church
Skirts must be returned to the church on Christmas Eve after the 4:00 pm Mass. Please bring clothes to change into and plan to leave the skirt and hairpiece with Sarah Christopher before leaving the church on Christmas Eve.
---
Questions?
Contact Sarah Christopher at [email protected], church coordinator for the Liturgical Dancers.
---
---
Sign up for Liturgical Dance on Christmas Eve at the 4:00 pm Mass
---