October 1, 2022
@
8:00 am
–
October 2, 2022
@
5:00 pm
We are taking the message of Peace beyond our immediate community this fall. You will have the opportunity to purchase a SPSA Yard Sign after Masses in October. The message on our sign comes directly from the Peace Pole standing outside our church – "May Peace Prevail on Earth".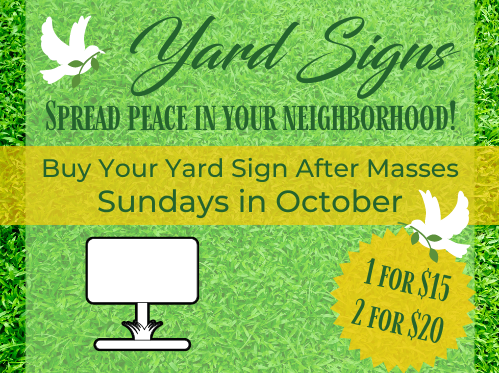 Won't you help us take Peace into our greater Hartford area and into your neighborhood? Our parishioners come from over 126 zip codes – wouldn't it be wonderful to see our Yard Sign spreading Franciscan Peace far and wide? The offering for the sign is $15 or two signs for $20.
Thank YOU so much for giving this your full attention. We sincerely hope you can join in these efforts to become Instruments of Peace!
Read more about the ways we are working toward a more peaceful world.